Ms. Walker's Kindergarten Class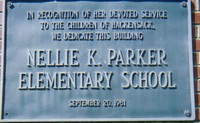 Welcome to Ms. Walker's Kindergarten classroom website!
Please check here often for a view of our classroom "happenings"!

Mrs. Seshadri, Ms. Robinson and I have spent many days this summer preparing fun learning activities!
We will start our school year with the study of Monarch butterflies and apples!
Did you know the Monarch butterfly migrates to Mexico for the winter and returns the following spring? We are going to learn many things from that little butterfly!
The following information will help you and your child, get ready for Wednesday, September 3, 2014, the first day of school! The first day of school is a 12:30 pm dismissal day! Your child will need to bring his/her lunch. Please plan to pick up your child at 12:30 SHARP. Teachers MUST attend workshops in another building and MUST leave in a timely manner.
We line up outside, downstairs near the playground entrance on The Esplanade. Please arrive between 8:20 and 8:25 a.m. We will meet the class at 8:25 a.m.
Please do not park in the parking lot, it is reserved for teachers.
Do not pull into the parking lot to drop off your child. Do not Park on Central Avenue, you will be ticketed! It may be better to park on Club Way and walk down and around to the Kindergarten entrance. My class and Ms. Dalie's class enter through the main doors. Mrs. King's and Ms. Arroyo's classes enter through the playground doors.
We will take some "first day" pictures before entering.
Your child will need to start learning about Monarch Butterflies, so please read at least 2 of the following books with your child:
Gotta Go! Gotta Go! By Sam Swope Fly, Monarch! Fly! by Nancy Elizabeth Wallace
Becoming Butterflies by Anne Rockwell Where Butterflies Grow by Joanne Ryder
From Caterpillar to Butterfly by Deborah Heiligman


Monarch Come Play with Me by Bea Ra ¡Monarca, Ven! Juega Conmigo (Spanish Edition) (A parent guide for the book is available at: http://basrelief.org/MCPguide.pdf)
Monarch Butterfly by Gail Gibbons I Wish I Were A Butterfly by James Howe
Waiting for Wings by Lois Ehlert Ten Little Caterpillars by Bill Martin, Jr.
A Monarch Butterfly's Life by John Himmelman I'm a Caterpillar by Jean Marzollo

(All books are available at Amazon.com or the library)